Revolver (リボルバー) is the Leader of The Knights of Hanoi in the Yu-Gi-Oh! VRAINS anime.
Appearance
Edit
While in Link VRAINS, Revolver is a tan-skinned man with completely yellow eyes, and black hair with orange and red highlights. His ears are pierced with Egyptian-style earrings with a blue crystal and an elongated gold triangular prism on long strings. Revolver also wears a mask with yellow glass and a white casing with a diamond-shaped pattern of white dots with red centers linked by a white circle that surround a white dot in the center of Revolver's forehead.
Revolver wears a white jumpsuit with a black elongated "T" shape tracing to the bottom of his chest, red ovals overlaying black ovals on the sides of the torso, and a v-shaped line of green where a belt would be. He wears a white trench coat lined with green with golden lines patterning both the inside and the outside of the coat. The sleeves are green white shoulder-pads and red diagonal bands on the bicep, making it unclear whether or not they are part of the jumpsuit or the coat. Revolver also wears a small white mantle with a black line tracing around the middle, and a green ornament attached at the front on either side of his neck and at the back by red gems. Revolver wears white-elbow length gloves with red diamond shapes on his forearm, and black boots with green heels and red patterns on the front that may be part of his jumpsuit.
Five years before the start of the series, Revolver assaulted the "Cyberse World" with a "Cracking Dragon" of his own with the intention to destroy it. The different Artificial Intelligences that protected it were restrained by Revolver and thus unable to stop. However the AI Ignis appeared and forced a disconnection of the Cyberse World from the rest of the network, thus forcing Revolver out of the Cyberse World while keeping its location known only to him. However, Revolver, furious by Ignis' interference, ordered his "Cracking Dragon" to capture Ignis, which led to the AI to be dismembered by the monster's jaws. This made Revolver and the Knights of Hanoi spend the following years searching for Ignis' parts in order to find the location of the Cyberse World.
At the present, the Knights of Hanoi continued their search of Ignis; but had many of their operations interrupted by the mysterious Duelist Playmaker, who defeated their agents, earning a name for himself. Specter informed Revolver that a trace of Ignis was detected and that SOL Technology was in pursuit. Knowing that if SOL retrieved Ignis, they would be able to restore the Cyberse World and ruin the Knights' efforts, forcing the Knights to act. Specter informed Revolver about Playmaker, who had interfered with the, before. Revolver wondered if Playmaker was a member of SOL, but dismissed the possibility as they would act more publicly. Specter added that Playmaker erased every trace of his activity and eluded the Knights' searches, concluding that whoever he is he must be a skilled hacker. Revolver became interested in Playmaker, but decided to leave him for now as Ignis was their priority. While SOL Technology performed a City Scan in order to search for Ignis, the Knights of Hanoi decided to attack as the defenses of VRAINS would be left vulnerable at that point.
Revolver ordered his men to search for Ignis, assaulting the digital world with their "Cracking Dragons" and ravaging the users in their way, deleting their accounts in the process. Ignis' remnants in the form of an eye was swiftly cornered by the Knights until Yusaku Fujiki and Shoichi Kusanagi used the lowered defenses to create an alternative path for Ignis, who used the newly made escape route, but ended up in Yusaku's Duel Disk as a result. Yusaku entered VRAINS using his persona Playmaker, saving the Charisma Duelist Blue Angel at the nick of time before she was deleted. Playmaker then confronted the Knight of Hanoi who told him that the AI they were looking for was on his Duel Disk and threatened to delete it if they did not cease their attack. Since Ignis was bonded to Playmaker's Duel Disk, the Knights must defeat Playmaker in a Duel in order to obtain it. Revolver, watching from afar, was amused at Playmaker while the Knights' agent accepted the challenge.[2] During the Speed Duel between Playmaker and The Knight of hanoi, he was suprised that Playmaker summoned a Cyberse Monster and stated that they had destroyed a vast amount of them to the point they believed Cyberse monsters to be extinct.[3]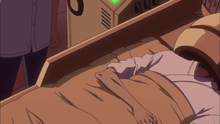 Specter and Revolver subsequently elaborated the events of the Duel with Playmaker. Revolver preferred Playmaker having his hands on Ignis for a while over SOL Technology having him, but added they should not leave him with Playmaker for too long. He them summed up a list of characteristics of Playmaker's that might help discover his true identity, one of these being that Playmaker would eventually want to Duel him. Later on, Revolver sensed Ignis and tried to find him but failed. He later discussed a new program with Dr. Kogami. Hearing an alarm, Revolver briefly logged off VRAINS to go visit his father and assured him he would fulfill his wish.[4] Later inside the Knights base, he and Specter watched Blue Angel's public announcement to duel Playmaker. Specter told Revolver that they could use her.[5]
References
Edit
Ad blocker interference detected!
Wikia is a free-to-use site that makes money from advertising. We have a modified experience for viewers using ad blockers

Wikia is not accessible if you've made further modifications. Remove the custom ad blocker rule(s) and the page will load as expected.