Yu-Gi-Oh! LABO
Japanese
遊☆戯☆王 VRAINS 徹底解剖! 遊☆戯☆王 LABO
Alternative Titles
Information
Premiere
April 5, 2017
Season chronology
Next
Yu-Gi-Oh! VRAINS
Yu-Gi-Oh! LABO
 is a talk show and special for 
Yu-Gi-Oh! VRAINS
. The show aired one month before the premiere of VRAINS as a special to promote the show before the premiere. The first episode of the show aired on April 5th, 2017.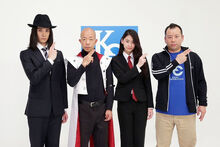 List of Yu-Gi-Oh! LABO episodes
Edit
Ad blocker interference detected!
Wikia is a free-to-use site that makes money from advertising. We have a modified experience for viewers using ad blockers

Wikia is not accessible if you've made further modifications. Remove the custom ad blocker rule(s) and the page will load as expected.